Peter Macgregor Memorial Library
The Seminary Library contains a large number of reference books needed for class work, together with commentaries, devotional works and some books of general interest, including the beginnings of a French collection, plus a number of periodicals. Librarian assistants may be chosen from the student body and may be paid an honorarium for their services.
Students also have access to many local University and Public Reference Libraries. Some courses will require the use of these libraries. All students on a degree programme are therefore required to join at least one of the TST (Toronto School of Theology) libraries.
The library computers provide an internet link to UTCat, the University of Toronto library database. This gives access to a catalogue of over 7,000,000 books, most of which are shelved within walking distance of the Seminary.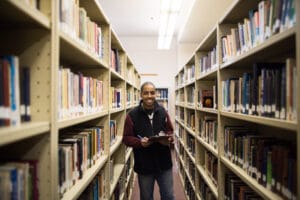 Library Hours
Fall 2023
| | |
| --- | --- |
| Monday to Friday | 10:00 a.m. – 12:00 p.m. & 12:30 p.m. – 3:00 p.m. |
If you need any assistance when the library is closed, please use one of the following options:
Chat on "Teams" (Joao de Souza – JS)
Email: library@tbs.edu
Phone: 647 221 2075 (preferably "text")
The Library is closed during Chapel Service as everyone is expected to attend chapel.
Gifts to the Library
The Seminary welcomes gifts of useful books for the Library, which fills a large place in student life. To this matter we could call the special attention of retired ministers who, though poor in this world's goods, have managed to collect valuable theological works which they fear may fall into unappreciative hands after they are called home. We can assure that such books will be most profitably employed and most sincerely appreciated by the Seminary Library and those who use it.
Gifts of money are most helpful for the purchase of essential contemporary works. The Peter Macgregor Memorial Library Fund has been established for this purpose.